Free Rummy Game
Rummy is a traditional card game played between 2 to 6 players. Thanks to the rise of mobile games and the increasing reach of the internet, today, you can play rummy online for free on Playship. Rummy, like other sports, is a game of skill that can be won only with a lot of practice. So it's always better to improve your skills in this game rather than leaving things to luck. Remember, your strategy defines everything in online rummy games.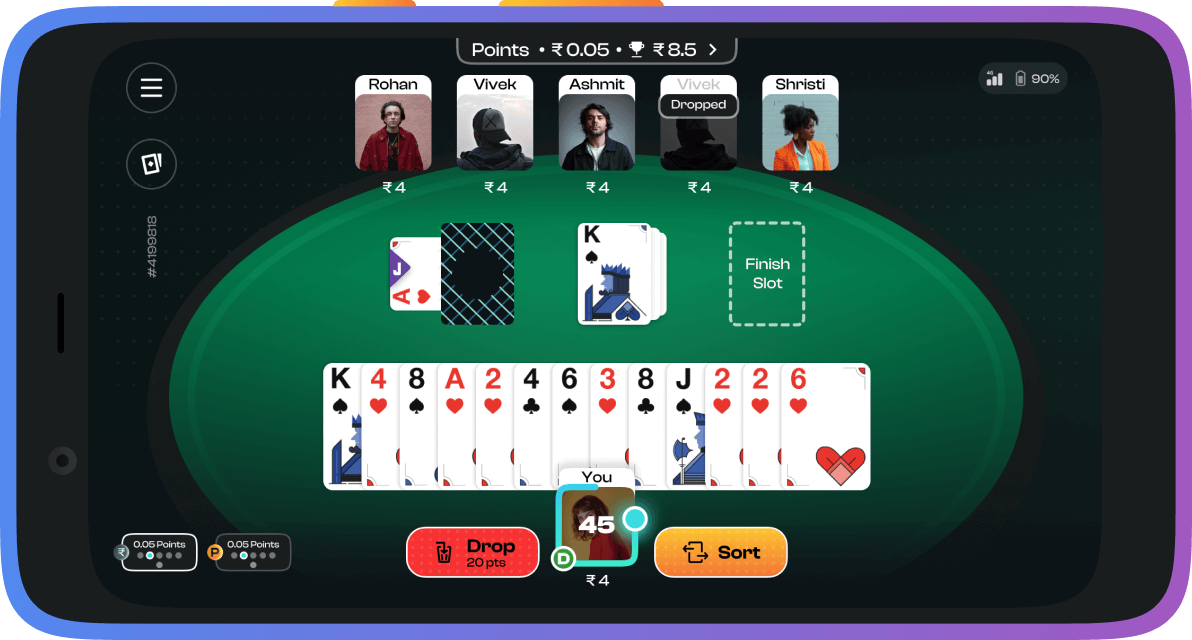 Rummy is a fun game with many variations. Majorly, there are 3 types of free rummy games on Playship –
Free Practice Games
You can download the Playship app from the website, Google Play Store, or iOS App Store, and start playing free practice games. The free practice games are available in the below formats.
You can choose to play between 2 players or 6 players. You will always have a higher probability of winning in a 2 player game, so start with that.
You can choose to play between 2 Players or 6 Players. Pool rummy has variations in itself as well – Pool 61, Pool 101, and Pool 201 Rummy. In pool rummy, the player with the lowest points wins the game while the player who reaches 61,101 and 201 points (depending on the game variation) gets eliminated.
You can choose to play between 2 players and 6 players. Free deals rummy game has 2 variations – 2 Deals and 3 Deals. In 2 deals, you'll start with 160 chips while in 3 deals, you'll start with 240 chips. The one who has the maximum number of chips at the end of 2 or 3 deals, wins the game. In the case of a tie, a tie-breaker round takes place.
Free Tournaments
Another advantage of playing online rummy on the Playship app is that you can choose to play multiple free tournaments. There are no registration or entry fees for these tournaments. But that doesn't mean there are no prizes. Free tournaments also have big cash prizes.
Advantages of playing free rummy games
You can play unlimited free games and have unlimited fun.
You can learn rummy rules by playing free rummy games online.
You can try different rummy strategies on free games and once successful, use them in the cash games.
Free Chips are unlimited and never get exhausted. You can play 24×7 with these chips.
When playing for free, you do not need to worry about losing money.
You can win free cash by playing free rummy tournaments.