Rummy Tournaments
Rummy is a game that has numerous variations. At Playship, you can play practice games, cash games, and tournaments.
What is a rummy tournament ?
Tournaments are games played in multi-table and multi-level format with multiple winners at the end. Tournaments are organised at a pre-scheduled time that is announced on the app with required terms and conditions. Most rummy tournaments will ask for a pre-registration for the particular game and you have to reserve a seat to join the game.
How are players seated on tables?
Every table in the multi-table tournament can seat a maximum of 6 players. Based on the number of players for a round, players will be seated across multiple tables. The seating may also vary based on the number of players in a particular round. For Example: If there are 36 players in a round, then these players will be seated on 6 different tables with 6 players on each table. Similarly, if there are 34 players in a round, then these players will be seated on 6 different tables with 6 players on 4 tables and 5 players on 2 tables.
How do I join the tournament?
Every tournament has a fixed number of seats. Players are given seats across multiple tables and the ones who win, move towards the final game. To join the tournament, players need to register, and then at the given time, click the 'Join' tab to start playing.
How is the tournament seat assigned?
A rummy table can have a maximum seating of 6 players, and the aim is to fill one table before moving to another table.
Scoring in tournament

2 – 6 Players

30 secs to make your move
All tournaments are conducted in knock-out style wherein 2-6 players (based on the tournament size) play a set of 2-6 games against each other in each round. In each game, turns are alternated between those players and each player has 30 seconds to make a move. The winner is the player who has the highest total chips at the end of all games.
How are tournament chips allocated?
Each player is allocated a fixed number of chips at the beginning of each round in a rummy tournament. The winner of a round gets a fresh allotment of chips to play in the next round.
What is the point system in rummy tournaments?
The player who declares first after forming a valid hand gets zero points.
All the face cards are worth 10 points each and the other, numbered cards carry points equal to their face value.
All the wild and printed Jokers carry zero points.
If a player drops on his/her first turn, he/she gets 20 points, and if he/she drops after the first pick, he/she gets 40 points.
A player who declares without completing the objective of the game gets 80 points.
Losing players get points equal to the total of the points carried by the cards in their hands.
If a losing player has formed no pure sequence, the points of all the cards in his/her hand are added up.
If a losing player has formed two sequences out of which one is a pure sequence, then only points of the cards that are not arranged in sequences and sets are added up.
A losing player can get a maximum score of 80 points
A player who misses three consecutive turns gets a middle drop of 40 points and is automatically dropped from the game.
Tournament chips and how their value is calculated at the end?
Rummy chips carry one point each in every rummy tournament. Only one winner wins all the chips in the tournament at the end of the tournament.
Total Winnings=Sum of total points of all losing players X 1 tournament chip
Example : if a player wins a game of six players and five losing players lose with 20, 30, 40, and 50 points, the winner will win 140 rummy tournament chips.
How are the winners of each game and round decided?
A rummy tournament starts with the allocation of a fixed number of chips to each participant. In each round, the players need to play a fixed number of games and they are ranked according to the number of tournament chips they have at the table. After a round ends, the player who has the highest number of chips at a table proceeds to the next round.
What kind of tournaments exists on Playship?
We have 2 types of tournaments – Cash Rummy Tournament and Free Rummy Tournaments.
Cash Tournaments
Users need to pay an entry fee. After pre-decided rounds, multiple winners win from the prize amount.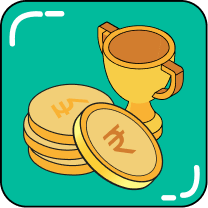 Free Tournaments
Users don't need to pay to an entry fee. After pre-decide rounds, multiple winner win free cash prizes.