Online Rummy Game
Do you know 13 Card rummy is called Indian rummy?
Rummy has been one of the most interesting card games for ages, and it is quite a popular game in India. This amazing card game, that once required people to gather and physically be present to play, is now easily available online. Online rummy is played in several different variations, be it 13-card rummy or 21-card rummy. 13-card rummy is also known as Indian rummy.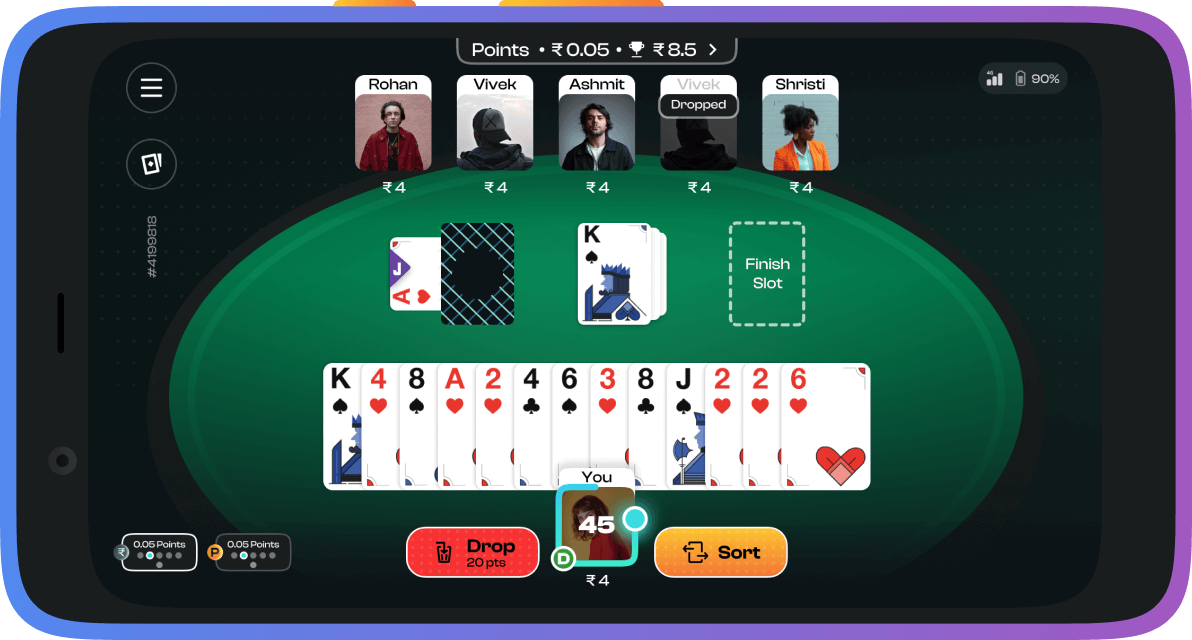 Benefits of playing online rummy
Indian Rummy is by far one of the most entertaining card games in the country. And there are plenty of benefits associated with it, when you play it online :
Ok, don't play it 24 hours a day, like literally. But the point here is that it's available 24×7. You don't need to be physically present at a table to enjoy this game.
You can play rummy online for real cash and win amazing prizes. Participate in big tournaments that offer big payouts.
You can play rummy online for free and earn lots of rewards and cash prizes. Need we say more?
Play rummy online with friends
You can play online rummy with friends and family, and have fun together. Let's not limit ourselves to playing cards at a particular festival. You can organise a rummy party any time.
Online rummy apps enable you to play on multiple virtual tables at the same time.
Higher the buy-In, higher are the rewards
Millions of Indians play Indian rummy online on different types of online portals and applications through their mobile devices from the comfort of their home. This is why the platform on online rummy games has become highly competitive, making it equally rewarding to play. In the case of online rummy cash games, the higher the buy-in, the higher are the rewards. Different online rummy sites offer unique variations of this famous card game. These online rummy sites also have their unique system of rewards and promotions that encourage a lot of players to play rummy online.
Wondering how to play rummy online?
All you have to do is download the Playship App from the website www.playship.com Playship brings to you an exciting platform to play classic rummy card games online from the comfort of your home on your mobile devices. you can enjoy any variant of Indian rummy and even play rummy online for real money and win big. So what are you waiting for? Download the Playship app now.